"Curare Skateboarding
–
Merging Art With Skateboarding"
DOSE article about CURARE
20.12.2021
"Berlin-based Curare is a skateboarding company that seeks to empower its community and invigorate its artistic roots. To them, skateboarding is an artform and the boards are the medium. Curare promotes inclusivity, self-expansion and creative passion.
In a recent exhibit, Curare showed its potential with outstanding success.  Artists collaborated with Curare to create unique boards and the community responded enthusiastically. One did not need to be a skateboarder to marvel at the beauty of these pieces. Curare has momentum and plans to invite more artists to collaborate with them and promises complete artistic freedom. Through the sale of the artwork, Curare supports the artists. In addition, limited art prints will also be sold to further expand the artist's visibility. They hope to bring art in the public space to be skated.
Curare is aware of our collective environmental impact and repurposes used boards. They have teamed with craftsman Jens Reuter at Skateboard Creations who turns these boards into colorful accessories.  They encourage their customers to bring in their used boards in exchange for a discount on new Curare products.
Curare wants to make skating accessible to all. They are about community.  Skating is a skill that is available to all regardless of age, sex, gender, race and ability. The company supports and hosts events that demonstrate just how powerful a diverse skateboarding community is.
Curare promotes sport in Germany by supporting young skateboard enthusiasts. This year some of their team members qualified for the World Rookie Tour and competed against international skateboarders from Europe, Japan and South America.
In a very exciting project, Curare collaborated with the non-profit organization Skatesencia and artist Julien Paccard. From this project, half of the profits were donated back to Skatesencia.
Curare continues to team with other local, charitable groups for the benefit of the community.
Curare aims to spark artistics passions and educate anyone interested in the arts. Curare sees the natural and reciprocal relationship between art and its customers. They want the skateboarding community to take ownership of their talents and culture in the hopes of empowering them to reach their full creative potential."
DOSE SKATEBOARDING
Check out 
DOSE SKATEBOARDING
, an independent skate magazine based in the Wild Wild East of Berlin.
You can find the original article here.
We would like to thank the beautiful people of DOSE for the nice article.
Article by Danny Brown
(IG: @dannybrown_sm4l)
SKATESENCIA x JULIEN PACCARD x CURARE
STORY
Since the founding of CURARE in early 2021, we have had the privilege of meeting so many great people and numerous friendships have grown. One encounter that has been particularly lasting for us is the one with the wonderful people of Skatesencia, which has had a huge impact on us and continues to do so.
Originally founded in Santiago, Chile, by a small team of skateboard enthusiasts Skatesencia's goal is to build a sustainable community through skateboarding. They seek to produce positive leaders and agents of change within their ranks, called "skatethinkers". In integrative workshop the team of Skatesencia is doing a wonderful, unpaid job and they try to convey an awareness for an emphatic, respectful interaction among each other and across societies. For their goal they use the non-traditional tool "skateboard". In addition, creativity, loyalty and perseverance play a crucial role in their program.
The self managed community of Skatesencia is growing every day and we see an important step in spreading their wonderful project in the world and follow their game-changing philosophy. You have our full support and we are going to donate 50% of the profit generated through this wonderful project and the sale of the COLLAGE decks!
Here is our story:
In spring 2021 we met Lucia Cortes Soltmann (IG @lucia_cortes_soltmann) at a sesh in Mauerpark. She was filming a "How to Heelflip" video for Skatesencia with our good friend Julia Kühne (IG @chuuuules). We got to talking and we were directly deeply impressed by Skatesencia and Lucia. Among other things, she told us that she was working on a collage project with the artist Julien Paccard. They had asked people in the Skatesencia environment to draw sketches of their dream spots (real or imaginary) and got many drawings from people all around the globe. In the few next weeks Julien was about to assemble them into a collage. We immediately recognized a connecting element, namely our interest in the connection between skateboarding and art, and made Lucia the proposal to offer the collage also as a deck graphic. Lucia was enthusiastic about this idea and the foundation stone for a first, joint project was laid.
After a few more meetings with Lucia, Gonza and Julien the realization was clear and we started. In just a few weeks the collage and a few more weeks later 50 CURARE x SKATESENCIA COLLAGE decks were ready.
We thank Lucia, Gonza and Julien from the bottom of our hearts for this wonderful joint project and are very much looking forward to more projects, events and exhibitions in the future.
We are honored to have these three unique people at CURARE's side!
Furthermore, we would like to thank everyone who was involved in this great project!
ARTISTS
Andres Montenegro
Ariane Kaiser
Bismarck
Boromir Bogumil
Diego Apiolaza
Diego Concha
Elisa Amenabar
Francisco Basulto
Ignacio Alarcon
Javiera Rojas
JJ Nilsson
Juan Ignacio Arias
Juan Pablo Reveco
Julien Paccard
Lotte Lünskens
Lucas Gutiérrez
Lucas Ormazabal
Lucía Cortés
Martin Schumann
Mauí Schroeder
Mauricio Oicata
Max Arriagada
Nancy Eadington
Pablo Mujica
Paulina Herrera
Pedro Amenabar
Ricardo Arteaga
Riner Arteaga
Sabine Biedermann
Sam Perkin
Santiago Dougnac
Sarah Strobel
Sebastian Castro
Sebastian Navarrete
Stefan Vogtländer
Tomas Apiolaza
Victor Bourdet
Victor Ceron
31/07/21 - CURARE FINAT miniramp contest
We are very happy to share the event recap of the first event organized and hosted by CURARE + Drop in e.V. + Impossible e.V.
We not only curate international artists of different styles but we are also committed to the versatility of the skateboard scene. We are very happy to see that the finta scene is gaining more identity and visibility and we want to support that.
For our first CURARE event ever we cordially invited all women, inter people, non-binary people, trans people and agender people to participate.
We were very happy about a strong field of 16 participants, some of whom had traveled from Munich and Marseille. Thank you all for being there!
Despite Covid conditions the event was well attended and we had a great day together with great people. We were hyped by the respectful, supportive and friendly vibes during the whole day. We hope you also had a great day and as we are planning more events of this kind, we look forward to your feedback and support.
See you soon!
RIDER
Hannah Baumbusch
Julia Kühne
Janis Billon
Melika Nazari
Mara Krachten
Lucia Cortes
Theresa Höschl
Merle Bonn
Beatrice La Rocca
Alice Di Pinto
Florence Ulrich Adcocks
Lea Meny
Judges 1: Kim Wibbelt
(IG @__wuschelkopf__)
Judges 2: Rodney (Steven Panzer)
(IG: @braindeadrodney)
Judges 3: Kristina Werth
(IG: @ktothe_rizzle)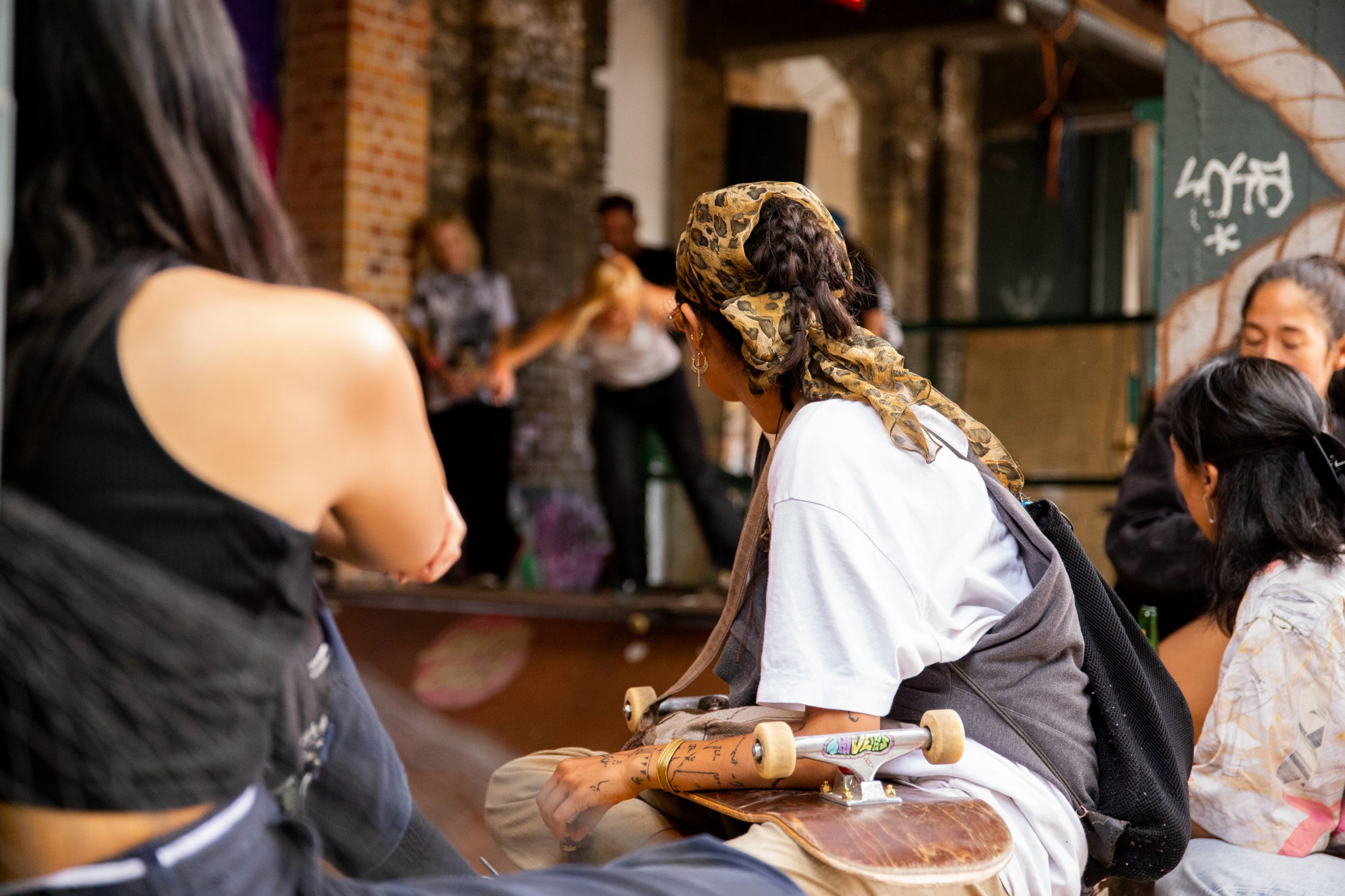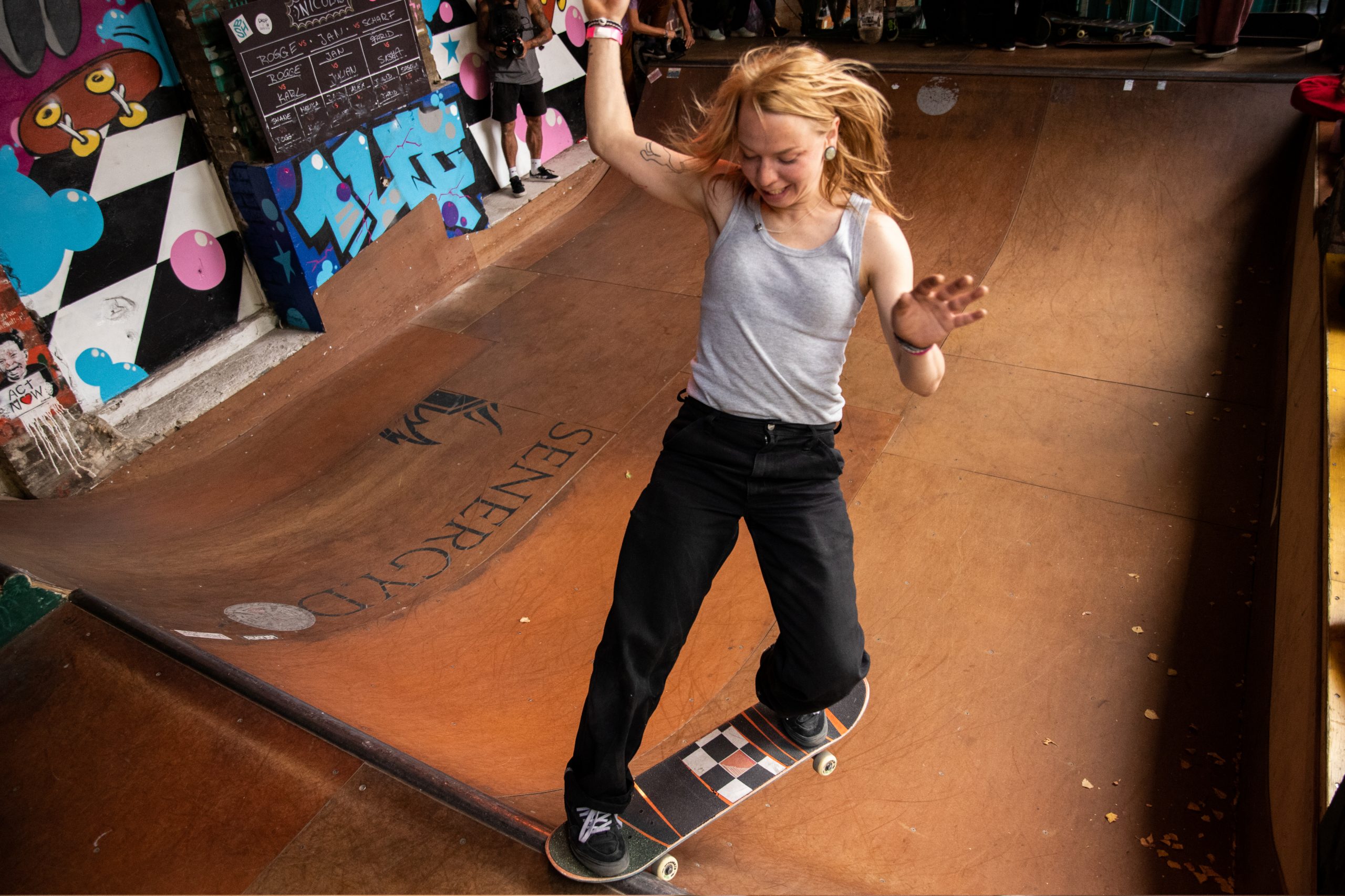 CURARE x SKATEBOARDCREATIONS
SKATEBOARD UPCYCLING
"Skateboarding is not just a hobby, it's a passion – the same as having an amazing Espresso. Being in love with both I made a tamper out of one of my old skateboards for my wife. Having that tamper posted for fun on instagram I soon figured that many people even throughout the world are amazed by the beautiful bold colors and the spirit that comes with those broken skateboards. It's just to sad to throw them away – They are still alive and on top 100% unique and handmade. Whether they are still under your feet or being upcycled for pressing espresso, holding surfboards, beautiful shift knobs & much more – they will always make you smile."
Jens, Skateboardcreations
WHY
Please reduce your waste and return your old decks. We forward them to Jens from Skateboardcreations and support his exciting project. In return we do offer a discount in our online store for your next order.
HOW
If you are interested in supporting CURARE and Skateboardcreation by reducing your waste please get in touch with us.
Thank you in advance!